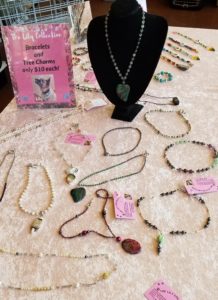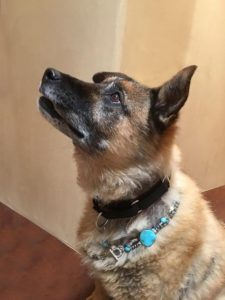 LILY AND HER COLLECTION
By Robert Albrecht
When you visit Humane Society of Sedona's main shelter in West Sedona, you are immediately struck by the variety of shelter dogs and cats and the quality of care they receive.
The Shelter takes in nearly 900 animals in any given year. They arrive as 'surrenders' animals given to the Shelter by their owner; 'strays' found in Sedona by citizens and by the Sedona Police Department's Community Service Officer; 'transfers' from other overcrowded shelters in Arizona and some are just left at the door to be discovered the next day. In most cases, no records or information accompany the animal, so the Animal Care team work to create as complete of a picture as possible on the new arrival.
A medical and behavior intake process is performed on every animal including a complete physical, along with vaccinations, spay or neuter procedure if not already complete, microchip if none is found and an individual care plan is established. 65% of the animals evaluated have concerning medical conditions requiring additional veterinary care, resulting in more expense to ensure animals are comfortable and healthy enough for adoption. Liz Olson, Director of Operations states, "In many cases, there is the need for specialized medical attention. You cannot wait on this, as the animal may be at risk and many times suffering. You have to move forward to preserve the health of the animal; anything less would not be acceptable."
So one could rightfully ask, "How do you pay for the additional medical care needed?"
Jennifer Brehler, Executive Director of the Humane Society of Sedona, says, "We could not begin to care for these animals each year without the tremendous support of our community, our Board of Directors, our energized staff and incredible group of volunteers that provide the love and compassionate care these animals need and who work so hard to find loving homes for them."
The necessary funding for the medical care often required to bring an animal into a healthy condition, ready to be adopted is sourced from the Shelter's "Emergency Medical Fund (EMF)". This Fund is supported solely by direct donations from individuals, occasional grants and by the unique sale of jewelry made by a few very special volunteers that are dedicating countless hours to make beautiful jewelry to raise funds specifically in support of Humane Society of Sedona's Emergency Medical Fund.
The devotion and time put into making this jewelry was inspired by Lily a10 year-old Shepherd mix that arrived at the Shelter in Fall of 2017. She was so sweet and easy-going that she immediately caught the attention of the staff and volunteers. But she was also depressed and suffering from several medical conditions that required immediate medical attention. As is the case in many situations, the Emergency Medical Fund was needed to support the medical costs of Lily's treatments.
For some time, Linda Brecher, a former Board member and volunteer and Anne Marie Kraus, also a long-time volunteer had been making jewelry together and donating the proceeds of the few sales to the Emergency Medical Fund, but they saw a need to grow this fundraising program after learning of Lily. When Linda and Anne Marie saw that Lily appeared very depressed, cowering in the corner of her kennel facing the wall they knew she was struggling to adjust to the turmoil she had certainly experienced prior to arriving at Humane Society of Sedona. At that moment Lily inspired them even more and it was decided that they would name the jewelry collection after Lily and share Lily's story to inspire others to help homeless animals in need of medical care. The necklaces, bracelets and tree charms that make up Lily's Collection are all handmade from real gemstones or reworked from other jewelry items that have been donated and turned into one-of-a-kind distinctive pieces. This is jewelry for animal loving people, not animal jewelry, but it is often modeled by various Shelter dogs up for adoption. Lily even joined Linda and Anne-Marie many times monitoring the jewelry process at Anne-Marie's home.
100% of all proceeds from the sales of The Lily Collection jewelry go to the Emergency Medical Fund to provide the special medical care that is often required to help a dog or cat become a healthy, adoptable pet. Linda and Anne Marie's dream to help Sedona's Shelter animals has grown with more volunteer support and they are often found attending events around the community representing homeless animals through "The Lily Collection" – an important life-saving program. The Lily Collection is also displayed at both of the Shelter's thrift stores, Paws West in Harkins Plaza and Paw Prints in the Village of Oak Creek. A display is also found in the main lobby of the Humane Society of Sedona's Shelter at 2115 Shelby Drive in West Sedona.
And what about Lily? She was adopted in November 2017 however after a couple of months she found herself back in the Shelter where compassionate staff and volunteers were there to care for her once again and after eight months, Lily finally found her loving forever home in August 2018 with her new family who are so grateful that they found her and to have Lily in their life.
For more information on "The Lily Collection" and how you can help the Humane Society of Sedona's shelter animals call (928) 282-4679 or visit our website at www.humanesocietyofsedona.org.