Donation Canister Business Partnerships
Do you have a few inches of space on the counter of your business? Join us as a Donation Canister Partner and you can help homeless animals.
The Humane Society of Sedona will provide an attractive donation canister for you to place on your counter and a volunteer representative to service and empty the canister regularly. Your customers will feel good knowing they are helping animals by dropping in their spare change. They will also feel good about frequenting your business because they know you care about our community's pets.
To sign-up as a partner, please contact Felicia Filep at ffilep@humanesocietyofsedona.org or call 928-282-4679.
PLUS…every year the top three businesses that raise the most money are awarded with a framed award and our immense gratitude.
The 2020 winning businesses were:
We would like to thank our current businesses that helped us raise over $4,000 a year:
1st Place –Clark's Market and Pharmacy
2nd Place –The Sedona Fudge Company

America's Mattress
Anderson Auto & Truck Repair
Bell Rock Veterinary Clinic
Buck Thornton's World of Jerky
Builder's First Source
Clark's Market & Pharmacy
Classy Critter's Dog Grooming
Creative Printing & Copy Too
Discount Gems & Minerals
Discount Indian Jewelry
El Portal Sedona Hotel
El Rincon Restaurante Mexicano
Famous Pizza – VOC
Inner Eye Gallery
Interdependence Natural Foods
Marketplace Fountain Tlaquepaque
National Bank of Arizona
Native Spirit
Natural Wonders
Nick's West Side
Ninibah
Oak Creek Brewery and Grill
Oak Creek Small Animal Clinic
Oaxaca Restaurant
Rene at Tlaquepaque
Richard David for Men
Rowe Fine Art Gallery
Sedona Ace Hardware
Sedona Air Tours
Sedona Animal Clinic
Sedona Bike & Bean
Sedona Digs Furniture
Sedona Divine Olive Oils
Sedona Drycleaning
Sedona Fudge Company
Sedona Kids Company
Sedona Liquors
Sedona Oil and Lube
Sedona Running Company
Sedona Shoe Company
Sedona Water Works
Silver Cloud
Spiritstone Gems Market
The Humiovi
The Lambs Shops
The Literate Lizard
The Melting Point
The Secret Garden Café
Thei's
Victorian Cowgirl
Village Car Care
Village Vet Clinic
Vino Di Sedona
Worm Book & Music Store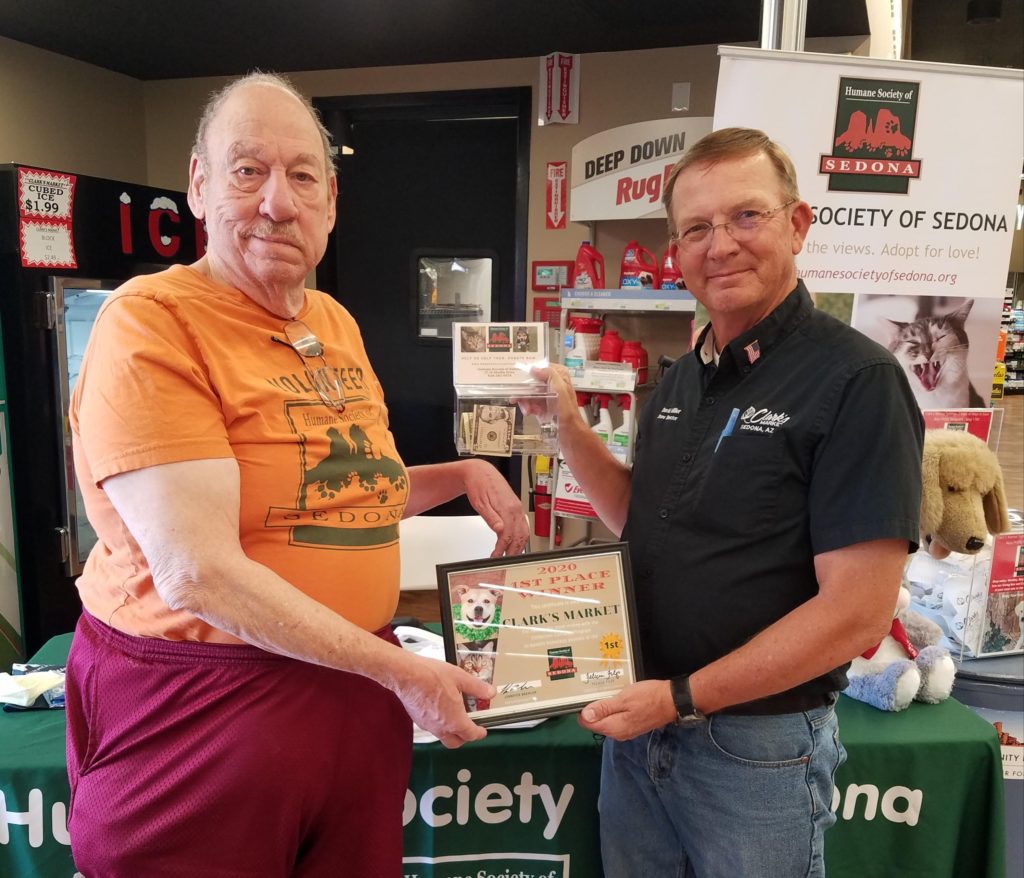 David Miller, Manager at Clark's Market Sedona accepts the 1st Place Winner Award from Humane Society of Sedona Volunteer Harold
Cole Eden, grandson of Sedona Fudge's Owner Tudy Longmire receives the 2nd place award from Humane Society of Sedona Volunteer Donna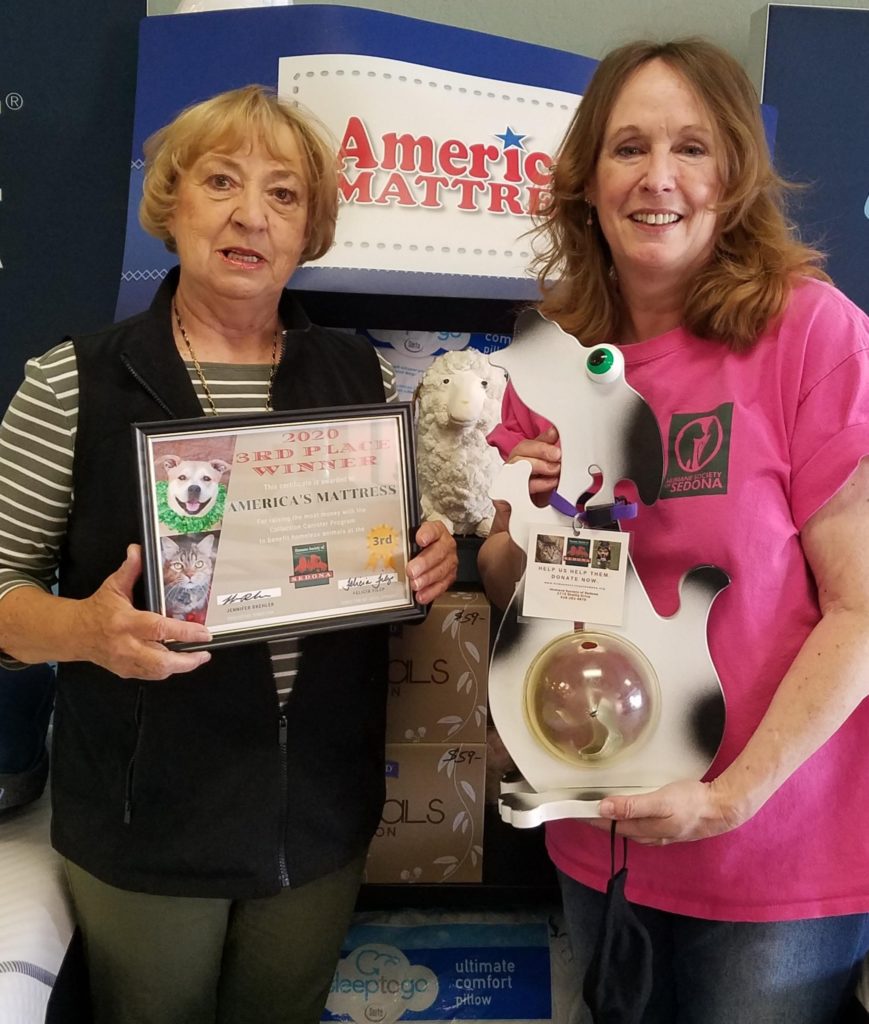 Gwen Dunn, Owner of America's Mattress receives her 3rd place award from Humane Society of Sedona Volunteer Michelle