Show how much you love the animals by sponsoring a kennel at Humane Society of Sedona for a whole year!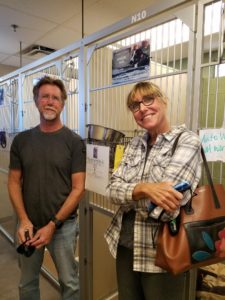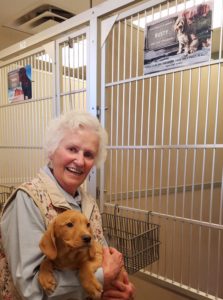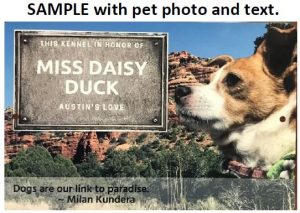 Your plaque will be hung on a dog or cat kennel or cat colony for a whole year. At the end of the year you can renew your sponsorship for another year or take the plaque home with you as a keepsake.
Send us a picture of your pet or your business logo (for an extra $15) and we'll create a custom plaque with the picture/logo and name with a special quote selected by you.
Select one of 6 beautiful background photographs and then use the attached form to write your text.
Special Thank You to all of our current Kennel Sponsors:
Sheila and Doug Hoffmeyer – "Travis – Forever in our hearts"
Sheila and Doug Hoffmeyer – "Willie – Forever in our hearts"
Becky and Dick Kruse – "Spencer – Our babies – Daisy – Sonny & Sundance"
Carolyn Bills – "Arrow – Thank you Arrow for being by friend – Cody"
Arlette and Barry Levitan – "Forte – The worlds best hiking buddy"
Donna Hawk – "Stetson – Donna's Goofball.  We miss our pals Shadow and Squire"
Linda and Alan Brecher – "Zia – Couldn't love you more"
Linda and Alan Brecher – "Buddha – Some kind of wonderful"
Hans Epprecht – "Marie – Who was loved by Delilah.  Dogs are forever friends"
Thora Hodge – "Shadow – her loving mom.  Cats leave footprints on your heart"